What's new in MediaConch
(and MediaInfo)
Implementation and policy checker


Jérôme Martinez, MediaArea
No Time to Wait 7, November 2023



What is MediaConch?
Implementation and policy checker, reporter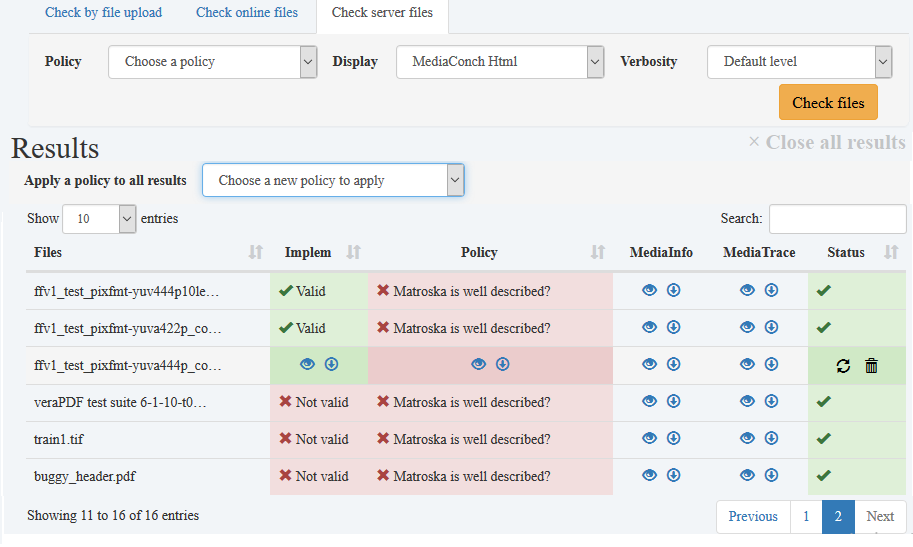 The past
Started in 2015 with European Union funding.
Initial focus was on open source formats
(MKV/FFV1/PCM).
Other companies selected for PDF and TIFF.
Also the start of IETF Working Group for MKV/FFV1/FLAC standardization.
Also the start of NTTW.
MediaConch latest developments (2023)
Different levels of logging (error/warning/info)
Fully online version (no file upload) for embeding in your website
Better support of several audio tracks
("all" or "any" policy rules)
xHE-AAC/USAC full implementation checker
Superfast option: parsing only the header
MediaInfo latest developments (2023)
Focus on MPEG-7 output:
Support of collections (for DVD Video)
3 modes (strict, relaxed*, extended*)
More sub-termIDs (AudioPresentationCS)
More PublicIdentifiers
More sub-termIDs (MP4, WAV, AVC, ProRes)
* Not always standard...
Sponsored by Bibliothèque Nationale de France (French national library)
MediaInfo latest developments (2023)
Others:
ISO 9660 native support (focused on DVD Video)
More HDR formats (SMPTE ST 2094-10, HDR Vivid)
Time code in MKV, AVC & HEVC
Extract of all time codes from a file, XML format (currrently only for for MXF)
APT-X100 a.k.a. Cinema DTS
N19/STL & WebVTT: more details (start/end timestamp, max count of lines, total count of lines, ...)
S-ADM in MGA in MXF, AAC in MXF
Not only about software
(2023)
Dedicated webpage for MediaInfo field names
Mapping to MPEG-7/PBCore/EBUCore and comparison of theses output formats
Sponsored by Bibliothèque Nationale de France

Current developments
(2024)
Comparison operations between properties across tracks
ADM full implementation checker
MXF partial implementation & policy checker
focused on issues from broadcasters
Check of MXF & MKV time code discontinuities
SMPTE ST 436 VBI parsing for catching VITC & Line 21
More options for probing caption presence in MXF
Report of MediaConch errors also in MediaInfo
And beyond?
It depends on you.
What are your needs?